MCCS are proud recipients of the
Exxon Mobil Educational Alliance Grant!
Thank You Exxon Mobil!!!!!!
We appreciate the support for our education!!!

2019 Microsoft Office Specialist Recipients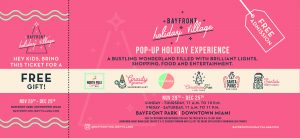 To inform schools of a free, family holiday event, Bayfront Holiday Village.
Free of charge to all attendees, Bayfront Holiday Village seeks to offer a fun, holiday experience for all Miami-Dade County Public Schools students and their families.
*   Bayfront Holiday Village opens November 29, 2019 and closes December 25, 2019 at Bayfront Park in Downtown Miami.
*   The free event features holiday decorations, waterfront roller skating, holiday games, music, food and shopping.
*   A 50-foot Christmas tree will be lit Saturday, November 30, 2019 at 7:30 p.m.
*   Printed copies of the attached flier are being delivered via school mail to all elementary and K-8 school sites for distribution to students.
*   Students who present the flyer at the Gnauty Gnome Scavenger Hunt tent will receive a holiday present.
*   For more information, visit https://www.bayfrontholidayvillage.com/
First Quarter – Honor Roll
Congrats to our students, parents , teachers , and counselors!